Cookies on the Abercrombie & Kent website
We use cookies to help you get the most from our site. If you continue without changing your settings, we'll assume that you're happy to receive all cookies on our site. However, you can change your
cookie settings
at any time.
THE INSIDER by A&K Southeast Asia - May 2018
Warm Welcome from Southeast Asia!
This month, we are excited to unveil our new Southeast Asia newsletter – THE INSIDER by A&K Southeast Asia! With this new format, we look forward to sharing with you our local knowledge and expert insights, plus exclusive interviews with the top tastemakers in the region and A&K insider experiences.
Exciting festivals and events are always happening in Southeast Asia, adding color and life to the guests' visit! We recommend visiting Vietnam during the full moon when the Hoi An Lantern Festival fills the streets of the ancient town with beautiful illuminations and festive food.
Designed for photography enthusiasts, we offer customized Photographic Experiences across the region, led by celebrated photo journalists and artists.  We also highlight our pick of the region's Top 5 UNESCO designated sites and how to experience them the A&K way.
We share an exclusive interview with Nicholas Downing, General Manager of The Siam, who shares his insider's tips to Thailand and beyond.  Plus, a kind word from our guests and special offers from Rosewood.
Yours sincerely,
Belinda Shillcock
Regional Managing Director Southeast Asia
In Focus: Hoi An Lantern Festival
A visit to Hoi An in central Vietnam is always an enchanting experience. The historical port town is known for its rich and dynamic history where French colonial buildings stand beside Chinese temples and shophouses, Japanese architecture and traditional Vietnamese residences. One of our favorite times to visit this fascinating town is during the Hoi An Lantern Festival which takes place on the full moon of each lunar month. Beautifully illuminated with colorful lanterns, the streets of the old town become a hive of activity with lively music and street vendors hawking delicious festival food.
Just a 40-minute drive from Da Nang International Airport, Hoi An has a rich culinary tradition and is surrounded by scenic countryside. The town is also within easy reach of pristine beaches along Vietnam's central coast.
For more information about how to incorporate the Hoi An Lantern Festival into your Vietnam journey, please contact our Vietnam Sales Manager, Truc.  
Find out more about this and other upcoming festivals in our 2018 Festivals Calendar.
Trending: Photographic Adventures with A&K
From stunning landscapes to vibrant and colorful cities, Southeast Asia offers plenty of inspiring moments for photography enthusiasts. Capture the beauty of Vietnam, the enticing flavors and colors of Thailand and the exotic charms of Myanmar through the lens with A&K. In each of our destinations, guests have the option to travel with a professional photographer who works in close collaboration with A&K to deliver unparalleled photography experiences. 
Customized Photography Tours: A&K local expertise and guides reveal the most photogenic secret spots, ceremonies and scenes while professional photographers are on hand to capture the best moments and snap professional portraits.
Hand-picked Professionals Photographers: Our partners include editorial, travel and commercial photographers who contribute to major international publications such as the New York Times, TIME, Forbes, The Wall Street Journal as well as up-and-coming artists who have received multiple awards for their exhibition work.
Educational Sessions with a Pro: Photographic journeys can incorporate educational sessions, where guests learn tips and tricks from the professionals on how to get the most out of their camera and take better photos.
For more information or to make a booking, please contact our Sales Managers – Truc in Vietnam, Baptiste in Myanmar and Anne in Thailand, Cambodia & Laos.
Our Top 5: UNESCO World Heritage Sites You May Not Have Heard About
While Angkor Wat is Cambodia's biggest drawcard and most recognizable UNESCO site, Sambor Prei Kuk remains relatively quiet and undisturbed. Having recently received its UNESCO status in 2017, the site encompasses the glorious ruins of Isanapura, the capital of the Pre-Angkorian Chenla Kingdom of the sixth to ninth centuries.
Sambor Prei Kuk is the perfect stop on the road between Siem Reap and Phnom Penh. Guests can enjoy an atmospheric lunch among the peaceful ruins.
2. Vat Phou, Laos
Located at the base of Mount Phu Kao, just outside the southern city of Champasak, Vat Phou is a ruined Khmer temple complex that dates back to the 11th to 13th centuries. The temple was built in front of a sacred spring and dedicated to Shiva, a Hindu deity. An annual festival is held here on the full moon of the third lunar month, typically in February or March.
One of the best times to visit Vat Phou is at sunrise when the first rays of the sun bathe the ancient stones with spectacular color and light.
3. Phong Nha-Ke Bang National Park, Vietnam
A three-hour drive from Hue, Phong Nha-Ke Bang National Park covers a vast area of diverse forests and aquatic habitats as well as a sprawling and breath-taking natural cave system with underground rivers.  A trek through the magnificent forest is rewarded with spectacular views of the complex landscape of limestone karsts - a rare beauty that simply must be seen to be believed.
Spend three days and two nights exploring the wondrous caves with an A&K guide, exploring underground villages and swimming in hidden pools.
4. Pyu Ancient Cities, Myanmar
In central Myanmar, the remains of three ancient cities can be seen. The walled and moated cities were built primarily of brick and inhabited by the Pyu people, who settled among the valleys of the Ayeyarwady River and flourished between 200 BC and AD 900. The ruins of palace citadels, burial grounds and Buddhist stupas offer a fascinating glimpse into an ancient and mysterious world.
Pyu Ancient Cities is accessible by overland journey from Yangon. Stay overnight in Pyay or extend for a second night to truly immerse in the fascinating culture and history of this remote region.
5. Ayutthaya, Thailand
Easily reached as a day trip from Bangkok, Ayutthaya was the former capital city and an important trading city during the 17th and 18th centuries, connecting nations of the Arab world, China, India, Japan, Portugal, the Netherlands and France. The influence of these international relations can still be seen in the Japanese Trading Post and Dutch village.
Cycling around the magnificent ruins of ancient palaces and temples with an A&K guide is one of the best ways to experience the majesty of this place.
The Insider: Nicholas Downing, General Manager of The Siam, Cannot Resist Thai Spices!
1. How long have you been in Thailand?
I initially moved here in 2009 and with the exception of two years on Koh Samui, I have called Bangkok home.
2. What do you love about your adopted home?
I love the culture and the people most. There is a crazy energy that keeps Bangkok buzzing more than any other Asian capital city. I love the contrast between the new and the traditional. And of course, the food! Cannot resist Thai spices…the more chili the better!
3. What is your favorite restaurant in Bangkok?
That's a tough one. It depends on the occasion and who I am with. Living on the edge of Chinatown as I do, my "local" used to be Jai Fai but obviously that's not so easy to walk into any more [Jai Fai recently became the first street food restaurant to be credited with a Michelin star and has since seen a huge spike in popularity]!
I always enjoy Issaya with its casual/fun approach to Thai dining and excellent service. Suhring is a special occasion restaurant that never disappoints. And then I can't go past the occasional great steak at El Gaucho with good friends.
All that being said, my list of "must try" new restaurants keeps growing and I need to get out more!
4. What is your favorite Thai dish and where is your go-to place for an authentic local meal?
At the risk of being self-promotional, I absolutely love our version of Gai Yang at Chon Thai at The Siam. The chicken is always perfection and I cannot resist. And Chef Damri and his team aim for traditional home style Thai cuisine that is hard to go past. His Gaeng Chaploo Poo is also another personal favorite with huge chunks of crab in gorgeously spicy curry.
5. What is THE experience you always recommend to guests in Bangkok?
I believe the Chao Phraya river and all that it offers is the heart of the Bangkok experience. From the local art galleries and cafes to the new creative spaces to explore like Lhong 1919 and Warehouse 30. I often recommend guests to take a private long tail boat and explore the klongs and see another side of Bangkok which surprises many. And of course, there is another benefit …no traffic jams on the Chao Phraya!
6. Where do you personally like to go for a weekend away from Bangkok?
I rarely go to the same place twice as I always enjoy exploring new places and to try new experiences. Luckily Bangkok is close to so many amazing destinations both domestically and internationally. It's great visiting old friends in Siem Reap where I used to work and Luang Prabang for its laid-back vibe and culture.
To create a custom Bangkok itinerary staying at The Siam and visiting some of Nicholas' favorite places, contact A&K Thailand's Sales & Reservations Manager, Anne.
What our Guests are Saying: Thailand in Style – The Trip of a Lifetime!
"If you are considering taking this company's Thailand in Style trip! My 30-year old daughter and I were fortunate enough to make this trip of a lifetime in February 2018 and it was perfect from start to finish.
We were shepherded every step of the way by one or more guides who handled everything: baggage, transportation to every destination (via private vans, boats, planes), sightseeing tickets/tours, tips, most meals. The 5-star accommodations were amazing and memorable - we hated to leave all of them! The trip also includes many unique dining experiences.
I highly recommend a trip just focusing on Thailand. A diversity of landscapes - including a megalopolis, mountains and beaches - are included and the 12 days flew by, packed with temple visits, markets and a snorkeling trip. Service everywhere was friendly and exceptionally caring."
--- Thank you for your kind words and we are delighted you enjoyed your trip with us, Lynn G. from USA!
Special Offer: Save USD $1,000 per person on our October departure (20-31 October).  Secure your booking now with your Abercrombie & Kent Travel Consultant at +1 800 554 7016 or click here to view the itinerary and available dates.
Special Offers: Rosewood Luang Prabang & Phnom Penh
Rosewood recently opened two new properties in Southeast Asia – a stylish and modern high-rise hotel in the center of Phnom Penh and a lush tropical jungle getaway in historic Luang Prabang. Book with A&K to enjoy special offers at these exclusive, one-of-a-kind properties.  
Rosewood Phnom Penh, Cambodia
Occupying the top 14 floors of Vattanac Capital Tower, Rosewood Phnom Penh soars an impressive 188 meters into the sky. The iconic building takes the form of a rising dragon and offers panoramic views of the city, including the fabled Mekong River.  A&K recommends this property for its comfortable rooms and stylish rooftop bar with dramatic views.
Book early and save up to 20% on accommodation!  Conditions apply.  Please contact Anne, our Sales & Reservations Manager for more details.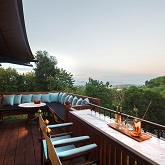 Rosewood Luang Prabang, Laos
Inspired by its location in the lush jungle outside of the historic town of Luang Prabang, Rosewood Luang Prabang is a beautiful natural hideaway that merges seamlessly with its surroundings, reflecting the cultural and historic influences of both France and Laos in design, art, cuisine and experience. A&K is excited about this property because it offers a stylish new element to the Luang Prabang scene with luxury tented options.
Enjoy a Stay 3, Pay 2 Promotion until 30 September 2018 with daily breakfast and complimentary round-trip airport transfers. Conditions apply.  Please contact Anne, our Sales & Reservations Manager for more details.
---
© Abercrombie & Kent Ltd. All rights reserved
Translate this page
* Translation cannot be guaranteed. For more information in your language please contact us.